Our Story
Swoozies and Beau-Coup Announce Merger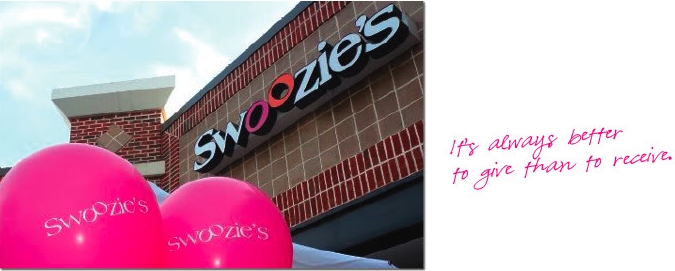 It's who we are.
Most great ideas are born of a need... and sometimes even a wish. A time-deprived mother of three, Kelly knew the importance of life's celebrations and more importantly, the inconvenience of driving ten places in order to organize one simple birthday party. What she really needed was a one-stop shop for the woman on the go. With neighborhood barbeques to attend, birthday functions to plan, teacher gifts to buy, wedding showers to organize and presents to wrap for each of them - not to mention juggling the rest of life's every day activities - she needed a place that could provide the answers. Oh, and she really wished it could be housed under one roof! It was then that the concept of Swoozie's was born.
She and her husband, David, a 30-year retail veteran opened the first Swoozie's in Buckhead in Atlanta, Georgia in March of 2001. Kelly and David immersed themselves in the world of gifts and invitations. Half of the visually fabulous store features invitations and stationery and half is devoted to gifts, many of them being personalized. The gift area of the store is theme based. It changes with the seasons, but also features a couple of staples including birthdays and wedding that customers have come to expect of Swoozie's.
We are passionate about many things here at Swoozie's including recognizing and celebrating life's occasions. Our customers count on us when it comes to celebrating their children's birthdays, their parents' anniversaries and their daughters' engagements. They come to us when it's time to recognize a friend's struggle, a neighbor's battle with cancer or the etiquette of saying thank you. We are also passionate about our community. As a member of the Boys and Girls Clubs of America when he was little and then going on to be a trustee on the board, David instilled in us the importance of giving back. At Swoozie's we believe that it's always better to give than to receive.
In 2007, we lost David to cancer. This was an irreplaceable loss for Swoozie's and has only motivated us to be even more active with local cancer research foundations and charitable organizations.
Over the years, many things have changed at Swoozie's. We have had our challenges and our celebrations. Luckily, they have made many of our relationships stronger within our communities.
The Gart Company out of Denver purchased our company in 2010 and is a valued partner in building it. We currently have seven locations (click on our locations page) and swoozies.com.
But, the fundamentals of Swoozie's have not wavered - brilliant products, personalization that sets the standard, outstanding customer care, and giving back to our communities. These are the things that make us who we are.
That is our story. Thank you for being a part of it.
Contact Us
Please contact our dedicated customer service team for additional assistance.
Hours
Monday - Friday
10:00AM-7:00PM EST
Phone
1-888-511-7080
1-888-511-7080
Email
Mail
Swoozies.com
4285 Roswell Road, Suite 10
Atlanta, GA 30342
Contact a Local Swoozie's Store
Swoozie's at The Markets at Town Center, Jacksonville

4866 Big Island Drive, Suite 8

Jacksonville, FL 32246

(904) 778-5308

Swoozie's at Sharon Corners, Charlotte

4722 Sharon Road, Suite G

Charlotte, NC 28210

(980) 218-9388

Swoozie's at The Summit

305A Summit Blvd.

Birmingham, Alabama 35243

(205) 968-3458

Swoozie's Downtown at the Gardens

11701 Lake Victoria Gardens Avenue, Suite 4104

Palm Beach Gardens, Florida 33410

(561) 627-3744

Swoozie's at Chastain Square

4285 Roswell Road, Suite 10

Atlanta, Georgia 30342

(404) 252-7979

Swoozie's at the Forum

5131 Peachtree Parkway, Ste 1015

Peachtree Corners, GA 30092

(770) 263-6446

Swoozie's at Friendly Center

3334 West Friendly Avenue, Suite 115

Greensboro, NC 27410

(336) 856-2406

Swoozie's at the Shops at Greenridge

1125 Woodruff Road, Suite 1604

Greenville, South Carolina 29607

(864) 286-3491

Swoozie's at Preston Center

8417 Preston Center Plaza Drive

Dallas, Texas 75225

(214) 890-0433

Swoozie's at Cherry Hills Marketplace, Denver

5910 South University Boulevard, Unit A-14

Greenwood Village, CO 80121

(720) 328-7195